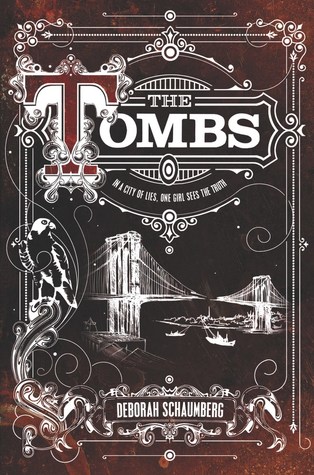 Gangs of New York meets Cassandra Clare in this debut YA fantasy set in 1882 BrooklynNew York, 1882. A dark, forbidding city, and no place for a girl with unexplainable powers.Sixteen-year-old Avery Kohl pines for the life she had before her mother was taken. She fears the mysterious men in crow masks who locked her mother in the Tombs asylum for being able to see what othGangs of New York meets Cassandra Clare in this debut YA fantasy set in 1882 BrooklynNew York, 1882. A dark, forbidding city, and no place for a girl with unexplainable powers.Sixteen-year-old Avery Kohl pines for the life she had before her mother was taken. She fears the mysterious men in crow masks who locked her mother in the Tombs asylum for being able to see what others couldn't. Avery denies the signs in herself, focusing instead on her shifts at the ironworks factory and keeping her inventor father out of trouble. Other than secondhand tales of adventure from her best friend, Khan, an ex-slave, and caring for her falcon, Seraphine, Avery spends her days struggling to survive.Like her mother's, Avery's powers refuse to be contained. When she causes a bizarre explosion at the factory, she has no choice but to run from her lies, straight into the darkest corners of the city. Avery must embrace her abilities and learn to wield their power—or join her mother in the cavernous horrors of the Tombs. And the Tombs has secrets of its own: strange experiments are being performed on "patients"…and no one knows why....
| | | |
| --- | --- | --- |
| Title | : | The Tombs |
| Author | : | |
| Rating | : | |
| ISBN | : | 9780062656445 |
| Format Type | : | Hardcover |
| Number of Pages | : | 448 Pages |
| Status | : | Available For Download |
| Last checked | : | 21 Minutes ago! |
---
The Tombs Reviews
I'm not going to bother with giving this a full, in-depth review, and I apologize for that, but this book uses a tremendous re-occurrence of a slur (the "g" word, a common slur against Romanian peoples) and makes no apology for it. There's even an author note in the back of the book in which the author tries to justify and make excuses for her insistence to add this book for the sake of "historical accuracy". That's not an excuse that flies with me, and when I skipped ahead and saw this justification, I DNFed the book. I don't have any desire to support an author who chooses to use a hurtful slur in their writing when there are many other terms that could've been used to ensure accuracy, that wouldn't have been so problematic.Besides the slur usage, the writing in this story felt rather poor and the plot was not compelling in the least. I was hoping for a dark, creepy historical fiction, but I was merely bored.Thank you to HarperTeen for providing me with this ARC in exchange for an honest review!

Sixteen-year-old Avery Kohl has been working as a welder in an ironworks factory ever since her mother was locked in the Tombs asylum and she and her father had to flee their respectable middle-class life. The skills Avery has developed in creating perfect metal connections are only appropriate, as she discovers that she has powers that let her see the connections between lives, and help heal other people's auras. But in New York City in the throes of the Industrial Revolution, such powers are dangerous, and there are plenty of greedy men who want to use Avery's powers for their own gain – just as they have been using her mother's. When Avery's burgeoning powers attract attention from the mysterious men in crow masks who drag people off to the Tombs, she has to go into hiding with her mother's Romany friends. She hatches a desperate plan to free her mother…only to find that the greedy industrialists are getting ready to unleash an awful plan on New York City, one that threatens the lives of every worker in every plant and factory. And Avery and her friends may be the only ones who can stop it. Filled with intrigue, adventure, romance, and all the cool steampunk flourishes a reader could ask for, Schaumberg's debut melds history and fantasy to create an absorbing world just beyond the known.I received an Advanced Reader Copy of this book in exchange for an honest review.

Thanks to Edelweiss and HarperTeen for providing an eARC in exchange for an honest review.4 1/2 StarsThe Tombs is a wonderful blend of history and fantasy, and Deborah Schaumberg does a fantastic job at bringing gritty 1882 New York City to vividly to life. Almost everything works here from the well-rounded characters to the detailed world-building. The only reason why I'm not giving this perfect marks is because toward the middle of the book the pace seemed to slow down a bit. Overall though, this is an absolutely stellar historical fantasy. There'd better be a sequel coming because that ending definitely left me wanting more!Also reviewed at http://cadburypom.wordpress.com

Deborah Schaumberg's The Tombs first landed on my radar because of its stunning cover. Then I read the synopsis and a decision was made: I needed it and pronto! As it turns out, The Tombs is a magical and rich debut. It's hard not to become completely enthralled by Avery's journey as well as rooting for her every step of the way. There's many things Deborah does well here; however, one of the best is the descriptions. It was so incredibly easy to be transported to New York City, 1882. I could picture Avery's world perfectly - the factory, her apartment, the tombs, etc. The tombs actually offered one of my favorite settings: a greenhouse where Avery discovers more answers to her problems! The greenhouse was so cool. I wish it was real so I could go and visit it. Additionally, Deborah did a fantastic job of fleshing out the story lines. I'll admit this isn't the most fast paced book ever. Deborah takes her time building up the world as well as Avery's past and current struggles; however, I was never once bothered by the speed. I eagerly ate up the descriptions, and I loved getting to know Avery better. More importantly, when things did speed up, I felt prepared. I knew what was going on - and had some very big questions!-and I couldn't wait to see Avery kick butt! Avery, the main character here, was likable and easy to root for. When the book first begins, Avery has grown use to blending into the background. It's easier for both her father and her that way; however, while Avery may be quiet, she's no pushover by any means. She's strong and powerful, more so than she even thinks. The scenes were she helped her fellow factory workers pulled at my heartstrings. Avery would risk anything for their safety, and that made her even more lovable in my opinion. Additionally, over the course of the book Avery's experiences a coming-of-age. She wants to get to the bottom of her mother's illness, Avery wants to know if she's like her. This brings about many struggles: between Avery and her father, between Avery and her best friend/trusted companion, and even between Avery and herself. It was interesting to see her face this struggle - should she leave it all alone or challenge everything - and I was very happy with the end result. Now for the one thing that dropped The Tombs down a star: the romance. There's two potential love interests - Avery's best friend & the boy Avery shared a kiss with years ago. Normally, love triangles don't bother me, but I just didn't like it here. I thought Avery's best friend was the better choice; however, she constantly felt drawn to this boy she knew almost nothing about (cue insta-love). It just didn't work for me - I wanted more for Avery, I wanted more for her best friend.Regardless, The Tombs is a wonderful debut, perfect for YA readers who love their historical fiction with a touch of fantasy and magic. I can't wait to see where Deborah goes next. I'm personally hoping for a sequel! *ARC was provided by the publisher via Edelweiss in exchange for an honest review* Book Blog | Twitter |Bloglovin |Goodreads

I know my status updates don't seem like I enjoyed this book, but I really, really did. It was special. The Tombs is definitely one of the creepiest books I have read in a long time, and the main antagonist was horrifying. The characters were amazing, as was the atmosphere, and I thought all the issues I had were handled delicately. There was even an author note at the back about the usage of the G word.However, I have thoughts about that. I need to marinate on them more and I will share my full review soon.I do definitely recommend this though. This author is a talent to watch.

You can find more of my reviews at Forever 17 Books.3.5 stars!There were so many aspects of The Tombs that urged me to pick it up. The setting is a fantasy world blended into the real NYC of 1882, a time after the civil war where racial segregation is still quite prominent. In this fantasy world there are people with unique powers, powers they must keep hidden because seemingly lurking around every corner is a scary doctor and his men wearing crow masks, ready to take you away to an asylum called the Tombs at the slightest inclination of a power. With a tenacious main character out to rescue those she cares about in the Tombs, this was one book to check out!I found the world building to very interesting. I love the blending of real and fantasy together in a way that felt like it could be true. The city details were very vivid and bold. The streets and factories especially. There are airships and even touches of steampunk thrown in as well. The hospital itself was very mysterious and sort of eerie. The evil doctor and his crow men were quite scary and revolting, giving my the heebie jeebies. There was a method to his madness, his big plans meant to control and to further the divide between races and nationalities. I loved the character of Avery. She is very confused and scared at first, in need of guidance when suddenly her own powers develop. When she gets herself into trouble and in the sight of those who want to lock her away, like her mother, she must learn how to use and control those powers in order to save those she cares about. She is the protective type who is just super compassionate and selfless, which we get to see time and time again with the kids she works with at the factory. She becomes quite unwavering in her determination to break out her mother and friends from the asylum and is willing to risk it all to do so.With so much to enjoy there were a few things that brought it down a little for me and mainly it was the slower pace in the middle. It dragged quite a bit and I was anxious for some action to perk it back up. There were also a few characters in the mix that had an important place within the story but I just never felt were hashed out as well as they should have been, mainly Khan, Avery's best friend. And then Indigo who we barely know at all. This was especially bothersome since a love triangle-ish type situation sort of arises between them all and it just felt very thrown in and unnecessary.The story ending was explosive and exciting yet left quite a bit unresolved. I'm assuming and hoping a sequel is in the works to close those holes up. I can only imagine what will be in store for these characters in the next installment. If you are looking for something unique and different than this is worth checking out!

Originally Posted OnThe Sassy Book Geek **** Huge thank you to HarperTeen for approving me for this eARC in exchange for an honest review! ****I have to say I'm a little confused about my feelings for this book, because it started out excellent and then for some reason dragged at the end and the story got really jumbled up. I think it had a lot of potential but that ending just made everything fall really flat for me.What I Liked: -Avery Kohl, our main character, is a fantastic protagonist. She's very loyal, kind, and doesn't like to stick to the 1880's views on women and race. Avery is a welder and honestly it's pretty badass because the work is hard, she's looked down on for being female and in this position but toughs it out, and she does it all to help provide for herself and her father. She also watches over the other boys in her crew and is very protective of them, it's adorable! -The setting of this book is extremely unique as it's set during the Second Industrial Revolution in 1880's New York. I don't know about you guys but that's not exactly a setting I see very often especially in YA! From what little I know about this time period I still thought Schaumberg did an excellent job with this setting. -I also really enjoyed the paranormal/psychic bits of the story, the powers that Avery has are interesting and some other characters possessed powers as well. However, I felt like the powers could have been explored a lot more and it would have made things a lot more interesting. -The side characters were really great and had their own unique personalities, sometimes they just don't get enough development but these characters had it! There were a few characters that really endeared themselves to me. -Avery also has a pet falcon named Seraphine, it's awesome. -The pacing at the beginning of the book is very fast and I was pulled in right from the start, the story was intriguing and I wanted to know what was going on with Avery's powers! -There is some romance present in this book and I love that it didn't take over the plot. I did like the love interests overall as well and could easily see why Avery liked them both. It was nice that no one ever had a big spat over who was going to end up with who though. -Diversity! We have African-American characters, Romany characters, and an Italian character. Of course there were others as well and I liked that we were shown what a "melting pot" New York City is. -I also really liked that the racism shown towards characters is challenged especially considering the time period the book is set in. Avery and her father both actively disregard the public's views of other races and are close friends with different people of color. -The cover is gorgeous!What I Didn't Like: -Half way through the story the pacing slows down significantly and really starts to drag. I ended up skimming a bit right at the ending because I just wanted it to be over. -The overall plot made sense from the start but as with the pacing, it just got really messy and confusing towards the end. I can't even really tell you what the heck was happening by the end! The beginning was strong but the end not so much. -The main antagonist was incredibly cheesy, we are talking classic mustache twirling villain. I had a hard time taking him seriously at all let alone as a threat. And his "grand scheme" was laughably terrible. -There's a love triangle and while I liked both love interests, what was the point? Especially the second love interest! He came out of nowhere I felt like! -As I already kind of mentioned, I wish everyone's "powers" were explained and explored a lot more. For such an important part of the story I felt it was barely present.Normally I'd say if the "liked" bits outweigh the "not liked" bits then I enjoyed the book but here it's just not the case. I enjoyed myself at the beginning of the book but by the end I was so bored and confused that I just can't give this book a better rating. It was too much of a mess by the end.

Thanks to the publisher for providing an ARC in exchange for an honest review, This doesn't in any way influence my opinion on it.The Tombs by Deborah Schaumberg is yet again another absolutely brilliant debut novel. Avery's story is a captivating one that grabbed my attention from the very beginning and never let go. Dashing through the streets of 1800s New York with Avery was a fantastic experience I enjoyed having. Avery Kohl works in a ironworks factory and tries to keep her inventor father out of trouble. Their relatively normal life was upended a few years back when her mom was branded a witch because of her abilities that seemed to do strange things, Avery's mom was taken by the fearsome Crows (Guards with Crow masks) to The Tombs. The deadliest prison in New York where the worst of the worst goes. Avery and her father have spent the past few years laying low in the slums but it all changes once again when her powers (just like her moms but no less confusing) emerged in a situation that threatened to expose her. Wanting answers, Avery visited her mother in the Tombs despite her father having warned her of the danger. She finds out that her mother wasn't insane as she was accused and wrongful experiments have been conducted on her. It was all the work of a scary evil doctor,Dr. Ignatius Spector who has been kidnapping people with his Crows under the guise of 'helping' them to deal with mental illness. He tries to capture Avery but she luckily escapes due to the help of her ex-slave best friend Khan who she has been having feelings for. Avery follows the only link her mother could give her, the Gypsies. She seeks after the Gypsies though her father forbade her from seeing them due to a reason he's not sharing. The Gypsies teach Avery more about her powers and what she is and what she can do. Eventually forced to leave her life behind and go into hiding with the Gypsies, Avery begins to realise the problems before her is more vast than it seems and the very fate of the whole of New York may depend on her success. Determined to rescue her mother and a boy she once liked from the Tombs, Avery delves into her power and discovers she has a lot of fight in her. The moments before the ending were action filled and a total whirlwind of awesome events. I loved how it ended with a vision of hope but still leaving me with thirst for what's next. The Tombs has everything engrossing characters, quality writing, vast character development, creepy horror, action, romance and impressive powers. Deborah Schaumberg had made me a fan of her work with this interesting book, YA readers will have a blast devouring it. P.S: I'm still not sure if I'm team Khan or team Indigo.

I got this ARC in exchange for an honest review from HarperTeen, so thank you!The Tombs is set in 1882's New York City, and it follows a welder girl named Avery, who can see the energy in the world and is determined to get her mother out of the Tombs, a terrible prison/asylum. Things I liked:- The thing that pushed Avery forward, her motivation, was her mother. It's rare to see such a strong mom/daughter connection in YA, so I was really happy about it. - There were a lot of scenes where the stakes were high. The first half of the book had me on the edge of my seat all the time. Every moment felt like an uh-oh moment. - Khan. I really loved him and I wish we could see more of him - more about his story, and who he is. He's exactly the type of character that I like, so of course I couldn't help but love him. I just wish we got more of him. - The writer could have really gone for the "I'm not like other girls" narrative, but she didn't. Avery wears men's clothes and works in a mostly male environment/line of work. Katalina is girly, likes dresses and heels, and surprisely, Avery doesn't feel superior to her. She appreciates and misses female friendships. This book is full of female relationships and I'm here for it. Also Katalina is the bomb. - The boys at the Works, especially Geeno. They were adorable and deserved better than working so hard so young. Avery's relationship with them was soft and cute. - Seraphine! I love books with pets. I love books with pets who are so present. - The Crows. They freaked me out so much and their uniforms + mask gave me such steampunk vibes (hello, Bioshock?) and creeped me the hell out. The villain is gross and evil and all that, but he was very much a cliche come alive. His guards were much more compelling. - The Diviners vibe. I read the trilogy on the beginning of the year and was then declared an orphan. This book had the same vibe - even being set almost 50 years earlier. The society of the time, alongside with characters who are from minorities and are suffering in the hands of capitalism and the whole creepy creepy vibe of the villain gave me that Diviners feel that I was missing so much. - Unique setting. And I mean really unique. 1882's New York, fresh out of the civil war and in the midst of a industrial revolution. Not a setting I ever read, I think. Things I didn't like: - Some relationships felt too intense, too fast. I get it, desperate times, the whole soul connection but I... just wasn't convinced, unfortunately. The instant love thing is this one is strong. - Some tell not show. Or rather show then tell, then tell again. And again. I think it's just a matter of practice in writing. After all it is a debut novel and it is well written, there were just some little writing vices.- I wish we got more development out of the side characters. They were so great and I wanted to see more. - The book starts out immensely great, fast paced and captivating, but it really slows down in the middle only to blow it all in your face in the end. The ending was a bit rushed, which made me distance myself from feeling too much because I couldn't even process what was happening. Overall, the likes weight heavier than the dislikes. It was an unique and fun read, that get me engrossed through it, even in the slower parts. I loved Avery and all of the side characters so much. Also the tension caused by the Crows and Dr. Spector were so good. My biggest problem was the instalove - the writer told us it was happening, time and time again, and it still didn't feel believable or developed. ** this book uses heavily of the g slur for romani people. The author does make a note at the end talking about why she chose to use the slur, due to the time period, since it was the word used to describe the romani people at the time the book is set. I'm not romani so it's really not my place to talk about it, but I did want to bring it to table and acknowledge it.

This historical fantasy takes place in an alternate history New York in 1882. Avery Kohl is a young woman working in one of the many factories. She a welder in an iron works. She and her father are hiding from the Crows who took her mother and imprisoned her in the Tombs which is part prison and part mental asylum. Her father works as a clockmaker/inventor which brings in a steampunk element to the story.Avery is sixteen and starting to have the sort of visions that led to her mother's imprisonment. She's afraid that she is going mad. She's determined to get into the Tombs to see her mother and ask her questions. After she sees the conditions under which her mother exists and attracts the attention of the mad scientist who is experimenting on her, she becomes determined to find a way to free her mother.Meanwhile, her own paranormal ability explodes and she needs to go to the Gypsies for training in using or hiding her powers. There she finds out that a boy named Indigo that she met years ago has been taken by the Crows too. She recruits her best friend Khan - a young black man who her father rescued during the Civil War - to help her. This story is packed with history from the problem with race relations, the problem with organizing labor unions, and the role of women. It takes place in the shadow of the Brooklyn Bridge which is just being built and is a marvel of its age. It takes place in the grimy and gritty factories where children can be beaten by their supervisors. It adds in magic in Avery's power as an aura seer and a mad scientist who is making a formula to make laborers docile and obedient using the blood of seers. This is filled with action as Avery and her friends try to free her mother and elude the Crows sent by the scientist to capture her. Once captured, the conditions in the Tombs are horrible but Avery manages to make friends and design a plan to escape.The main plot point which is freeing her mother is accomplished but there are a number of dangling threads left for a sequel. I thought the story began slowly but, once I got the rhythm, it gained momentum and became a fast paced adventure.

I was curious about the title, intrigued by the cover, and once I began, I just couldn't stop. That's how mesmerizing I found the story to be.We're in the early 1800's, Brooklyn, New York, and seeing the world through the gritty, muddied streets of the average Joe/Jane...or rather the ones that once were higher up, knocked down by circumstance and odd occurrences. Young Avery is a girl in a boy's world, just trying to help her father, the only family she has left, as they claw and crawl each day into something resembling a life. Meanwhile, a man claiming to be a doctor tempts homeless urchins with coin and a promise, snatching the ones he wants while leaving the rest to wonder what happened. Perhaps more disturbing than the events I just mentioned is that Avery recognizes him. By books end, I was gobsmacked. So much happens in a relatively short span of time. We learn what became of Avery's mother, why her father vehemently warns her against visiting the gypsies, the identity and fate of the blue-eyed breath stealing boy from the festival night, the function of Avery's "condition" and the lengths to which some will go to obtain control over all. Some of it's pretty heady stuff, while others you simply feel in your heart and your gut. There's mystery, a little romance, friendship, manipulation, sadistic pursuits of power, freedom, confinement, terror, and above all, the resilience of the human heart to see the error of its ways even when things seem so far gone...well, of MOST to see anyway.All I can say is this...in my opinion, I LOVED it; whether you do or not is entirely up to you. Take a chance, approach with an open mind, and give yourself over to the history tinted but fantastically altered reality you'll certainly wish most aspects of will stay firmly in fiction.**eARC received for review

Three years ago, Avery's mother was taken and placed in an asylum for being insane; she saw visions, something unusual in new York. Now, Avery fears that she will also be locked away in the Tombs because she is starting to see things as well. When her unusual gift causes an explosion at her place of work and places her and her father in danger, Avery knows that she will have to figure out the truth behind her gift - and possibly learn to control and accept it as well. But this will not be easy. The Crows are on the prowl, seeking to hunt her out and lock her away with her mother and will stop at nothing to find her. But the Tombs are not what they seem and the experiments being performed on the patients take on a sinister light when new discoveries are made about the purpose behind them.---This book was such an unexpectedly fun read. The plot was well paced and there was never a dull or boring moment. Each scene felt necessary and purposeful, which I appreciated in a book that was 400+ pages. I was definitely hooked by the writing and the storyline and definitely wanted to learn more about Avery's powers and the details surrounding her mother's imprisonment. The villains felt realistic and believable, and this book easily set a strong opening for what I presume is going to be a great series! I loved the diversity of the characters in this novel as well. While the steampunk aspect of this book wasn't hugely prominent, it did add a unique twist to some of the events of the book and a layer of complexity to the genre and style of the book. Highly recommend picking this one up if you're looking for something a little different in your next YA read.

The reader finds themselves in a haunting, dark, gritty New York City, one that holds powerful secrets and powerful men -- all of which work toward trying to harness the abilities of "witches", the people who are branded as such and then locked away in The Tombs, a horrible asylum/prison where unspeakable experiments are being performed.Avery's mother is taken to The Tombs for being able to "see" the unseen, and Avery ignores all signs of this same ability in her, fearful she will also be locked away. But as Avery's powers grow, she can no longer deny she has these abilities and must decide: does she fight to rescue her mother or hide away forever?Such a great book! It mixes historical New York City with fantastical elements; it definitely feels like Gangs of New York, but I'd say meets Libba Bray (not Cassandra Clare). There are strong female relationships (Avery never feels "superior" to her girlier friend, just because she does more manual labor and acts within a more traditionally male role), an amazing and loving mother/daughter bond (this is what really drives all of Avery's actions), two potential love interests (I do love a good love triangle), and scary as heck villains (those crow masks are just like plague doctors and give me a super creep vibe)! Amazing debut novel, and it sets the reader up to expect more books to come! A must-read if you love darker fantasy mixed with historical fiction, The Tombs by Deborah Schaumberg is out in stores now! Make sure to order a copy today!!

I have several things to say about this book, and I'm gonna be all over the place excuse me lol:- Something about the writing set me off with this book?? I'm not sure what exactly it was, but it was just weird. Didn't make it bad. Just like "oof". - Golly I swear to god there is gonna be like a sequel???? Because that ending was so open ended??? And kinda rushed???? And not like "they lived happily ever after" more so "the bad guy is still out there and like undefeated". Now below I'm gonna have some points w spoiler so if u don't like that avoid the this one:- okay what was the deal w Indigo???? And Khan????? There is now a makeshift love triangle and honestly I didn't sign up for this. To be fair I do kinda ship Indigo and Avery, but like ??? He was rushed and it was just "Love at first sight" type shit which is like wtf honestly. Hopefully if there is a sequel and that gets cleared up.- I love how Avery's dad isn't just a deadbeat and is actually productive to the story it was greatOverall, the book was really good. I liked the action and the characters were unique and interesting. Oof.

Having just finished this book, all I can say is: I want the sequel! Please, please, please let there be another book because I'll go crazy if it just ends like that! Right from the start, I was hooked by the concept and the characters. It was a beautifully told story with layered individuals and a strong lead character in Avery. Not to mention there was a series creep factor regarding the Tombs itself. The story was interesting and engaging, and there were genuinely sweet moments that pulled at my heartstrings. I could barely stop reading for any reason! That's not to say there aren't a couple flaws. A love triangle spawned out of nowhere and I'm not sure I buy into it, the pacing was a little wonky at times, and again, I need more stories because of that ending. But all those nitpicks don't take away from what I think is a solid debut and a truly unique YA fantasy. I definitely want to return to it and hope I get to soon!

I am torn between 3.5 and 4 stars. I went with 4, but parts of this really bugged me .. I felt our heroine, for someone so determined to find out what happened to get her mom put into solitary confinement in The Tombs, was very flighty and indecisive in her plans to execute an escape. There's also the matter of character disappearing that are major parts of the plot. Two viable love interests that turn out to be kernels of temptation. The sacrifice of the purest of the characters, which really did not help my vibe toward the book. The ending leaves some things open; perhaps the author is planning a second book. If not, count that as another thing that rankled. I DO love that cover!

Reviewing an ARC of The Tombs--I thought the novel was a smart, beautiful melding of urban fantasy and historical fiction. I adored the characters, and the smoky world of Five Points and Tammany Hall era NYC, particularly the depiction of city as it existed in the late 19th century through the eyes of a young girl with a lot of loss behind her, a lot of mystery in her midst, and a lot at stake.

I loved this book! The setting and time period were beautifully interlaced with the plot, the characters are to die for, and the mystical feeling is outstanding. A wonderful read for anyone who loves fantasy and/or history. I read an ARC of the book and I can't wait to see it out on the shelves!An absolutely amazing and magical story :)

I'd rate this 3.5 closer to a 4. Full review to come. But I did like it. The ending was so open ended that I can see Deborah Schaumberg taking this in many different ways. Pretty good debut book, probably one of the creepiest books I've ever read. With probably the scariest antagonist I've ever read.

This is a fantastic book. Loved the story and I couldn't put it down. Avery and the other characters were really interesting, and the writing brings them to life wonderfully. So well-written, and in reading it I felt like I was living in 1880s New York. Definitely 5 stars!

I am all-in for anything set in 1882 Brooklyn! And Deborah did an incredible job with setting and atmosphere, fully rooting us in this world!!! I found myself rooting for Avery--I loved her! And the tombs.... so creepy! This story is filled with adventure and high-stakes!

I love some historical fantasy / steampunk book... and more if based in NY... rtc

Review to come - but a fun, interesting read :)

This book was amazing! The cover is great, the book is great, the plot is great! Definitely recommend. There are a few funny moments several scary and lots of excitement. By the way I got an ARC copy.

I have to say I am a little disappointed. This book is amazing in the beginning and I love the setting, but it dragged towards the ending. I think it would have been better with less pages to make it more compact and interesting. Nevertheless, a pretty solid read around Halloween.Review to come.This book has a creepy atmosphere that was really well crafted. The author knows how to write a setting and it was one of the aspects I loved the most. There is always something mysterious about Asylums, especially now that Avery is not allowed to visit her mother.Avery shares the power of her mother and it is a dangerous one, so she has to keep her head down. The only thing in life that gives her joy now are her falcon and best friend Khan. I adored their friendship and Avery was a solid character.